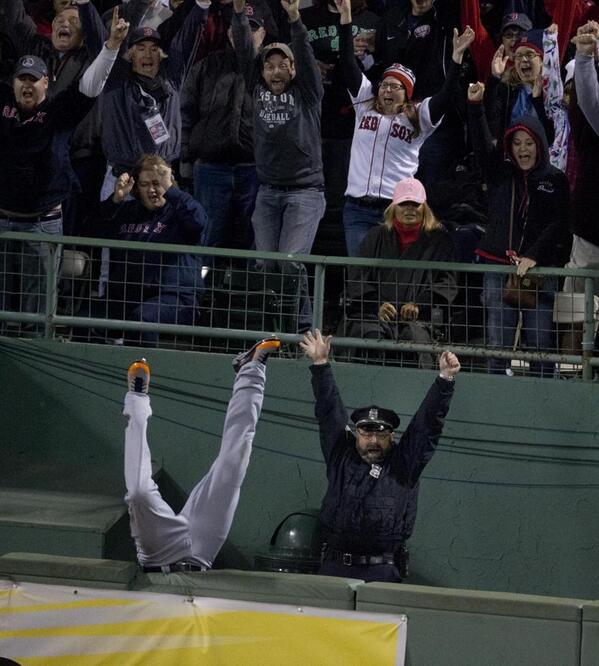 — Pete Abraham (@PeteAbe) October 14, 2013

The man, Stan Grossfeld, with the #RedSox shot of the night: pic.twitter.com/KoOOsFGYJ4
After last night's Red Sox come from behind victory Pete Abraham, a Boston Globe reporter, tweeted the above image of Boston police officer Steve Horgan celebrating David Ortiz's game tying grand slam (along with the legs of Detroit Tiger outfielder Torii Hunter).
While Officer Horgan certainly captured the mood of Red Sox Nation, what struck me more (in terms of this blog) were remarks by Sox catcher Jarrod Saltalamacchia's ("Salty"), who hit the walk off single in the bottom of the ninth.  In particular, his remarks on resilience: "this city has been so resilient all year long."
I know it's easy for any sports team to describe themselves as "resilient."  Usually the words used are "tough" or "never surrender or quit" or even "relentless."  This is certainly also not the first instance where sport teams has provided an emotional lift to a city or even nation after a traumatic event – see President Bush throwing out the first pitch during the World Series at Yankee Stadium following 9/11 (even as a Red Sox fan I loved this: "Derek Jeter, however, was less awed than amused. "Don't bounce it," the shortstop told Bush. "Or else they'll boo you."")
But to my thought/idea/suspicion(?), this is also not the first time since the Marathon Bombings that local sport teams in Boston have been explicitly connected not with just the strength, emotional, or psychological well being of the area's residents, but to resilience. "Boston Strong" was quickly adopted as a motto for the city in general and for all the sport teams.
Here is the Obnoxious Boston Fan to explain:
A city that was blasted to pieces on Patriots' Day has roared back on so many levels in the almost six months to the day since. None of us would trivialize what happened to those whose lives where shattered by the Brothers Grim that day, or in the ensuing craziness. But Boston's pro sports teams have been a spearhead in everyone's recovery. And even those who lost loved ones, or limbs, or peace of mind, have found solace, comfort and support by throwing out the first pitch, standing on the Gillette sidelines or waving the Boston Strong flag before a Bruins game.

Grit and balls?

More like molecular iron and testicular grandeur.
The meaning of #BostonStrong has been watered down in the eyes of many.

But it's just that mentality that makes being a sports fan in or of Boston, or one who has kept his Boston roots firmly planted across three time zones as a journalist, so special.

Tough, Resilient. Loyal to a fault. Caustic, profane and sarcastic, yet not afraid to cry once everyone else has left the room. Blue-collar even when we're white collar. Always trying to make things better, even when they keep getting worse.

It's that "never-say-die" mentality we all grew up with that Brady and Ortiz exhibited Sunday.

As kids, we were never allowed to quit. Anything. Ever. As adults, we're able to make rational decisions on the best time to cut our losses. Leaving Fenway Park or Gillette Stadium early on Sunday was one of those adult mistakes that those who made it may never live down in their minds.
Whether or not there have been truly observable, measurable, and/or quantifiable aspects of whatever one wishes to define as "resilience" I'll leave up to others.  However, I will throw out for consideration that "Boston Strong" and the statements of Salty and David Ortiz and the Boston Bruins have done so much more to advance resilience in New England than anything yet accomplished by any programs implemented by the Federal government – FEMA, ASPR, etc. – or the Commonwealth of Massachusetts or the City of Boston.
This is not to take a thing away from all of their efforts.  In particular FEMA Deputy Director Richard Serino, a lifelong resident and public servant in Boston, or anyone at the State or Boston area levels of government.
Maybe I'm just becoming a bit disenchanted with efforts labeled as "resilience" in the bureaucracies I've seen up close (e.g. can we not include resilience in strategic documents without first determining what it means?!?).
But if there happens to be another terrorist attack in the Boston area, or this winter a blizzard strikes, I would bet that the residents of the area will have closer connections (that's the idea of "social capital" folks are pushing) and even more willingness to help their neighbors and listen to authorities' instructions than ever before.
Is it time for homeland security professionals to begin casting even a wider net in search of resilience building partnerships?  For every innovative idea there must be ten legacy programs re-labeled "resiliency" because it is the buzz word of the moment.  For every Red Sox or Boston Bruins team bringing a community closer together, there are ten programs aimed at convincing residents to build kits, make plans, and stay informed.
At the very least, can someone bridge the difference?
[Apologies for the rambling nature of the above post – I was moved both as a Sox and resilience fan by yesterday's win.  I'm still working out the actual meaning for what traditional actors in homeland security consider non-traditional actors in promoting resilience…and even what means "traditional" and non-traditional" actors in homeland security…]
[Update: I should clarify/confuse my argument a little bit further: what I did not set out to do was speak poorly about those existing efforts at every level of government that aim to further preparedness.  For example, while Chief of Boston EMS Rich Serino put into place a number of innovative public-private partnerships that furthered what is now considered the "resilience" of the community.  When he developed them, however, he was improving something called "preparedness" or "preparedness and response."  It is this continuing confusion about what resilience means at the programmatic level, and the readiness for bureaucracies at all levels to claim that legacy programs build "resilience" that is leading me to believe that the quantum jumps in this field are occurring at the Red Sox level and not in the local FEMA or ASPR Rec office.]